Scooter in the Sticks' Steve Williams has been test-riding motorcycles for the last year or so, and now he's compiled all his reviews in one post. If you're looking for a scooterists' perspective on some current motormocycles, look no further; as always, great writing and great photography from one of our fave bloggers.
Genuine dealers finally got an official update today on the status of the 4-stroke Stella. In short, the first batch was not manufactured to the specifications approved for import. Genuine explains that the fault lays with the manufacturer (LML) and that the variation was "easily corrected," non-mechanical and not emissions- or safety-related. Plans are underway to return the first batch for correction and have a second corrected batch manufactured and delivered ASAP. The word (literally) on Modern Buddy is "October." That's a painfully long wait for folks with deposits at their dealers since late spring, but it's good to hear there's a plan in motion.
Read more

2SB visited the World Meet 2010 Microcar and Minicar show in Crystal Lake today. Ever since reviewing the book A-Z of Popular Scooters and Minicars a while back, we've been keen on checking out a microcar show, so we've been looking forward to this show in our backyard (well, our distant suburbs) for more than a year. We weren't disappointed, there was a good turnout with some great vehicles. I don't know much about these beasts, so I'll let the photos speak for themselves, but to keep it scooter-related, look out for the several Vespa 400s, an Innocenti-made Mini, and an Isle-of-Man-built Peel Trident with its original DKW motor replaced with a Vespa engine. (You can't see the engine, but the dashboard gives it away!)
Read more
On July 27, Scooter Superstore of America, a Ft. Lauderdale-based chain with several dealerships in Florida and Georgia, filed for bankruptcy. While many shops have closed their doors lately, and individual importers have faced some unique problems, SSTAM's trouble could be–pardon the tired idiom–the straw that breaks the industry's back.
Read more
Tweet from Genuine honcho Philip McCaleb:
Genuine scooter will announce "save ferris" prices for 150, 125, blackjack, and 2 stroke stellas early next week.
Thanks to a combination of the economy, market saturation, too much regulation too late, and bad luck, things are bad for everyone in the industry right now, sadly even the best of 'em. Again, I promise a big story over the weekend with some more details about what's going on behind the scenes in the industry.
Tweet what you love about Corazzo gear @Corazzo and win a gift certificate or a new perforated leather Corazzo 5.0 jacket. 3 certs and a jacket will be given away every weekday until Aug. 25. (Their regular site and contest page appears to be down at the moment.)
Scooterism reports that SYM models including the Symba and Fiddle II were finally approved for sale in California. (Insert sad trombone.)
Guido Ebert reports SYM USA is auctioning 110 scooters, in various states of title… ed… ness.
It's unclear from Ebert's story where these 110 scooters came from, but as we'll discuss in detail in a coming story, in the rapidly-declining scooter market, most scooter importers and their dealer financiers (usually GE Capital) are finding themselves with large numbers of scooters returned when dealers default on financing, considering the title situation, we'd bet that's the source here.
A Brooklyn couple chased down a 13-year-old cell phone thief on their Vespa last week. The NY Post, of course, calls them "heroes," and it's a great story, but it just reminds us of that time our man Larry almost got jumped by an entire street gang after chasing a couple teenagers down the alley behind the California Clipper on his Lambretta. Your insurance agent won't be thrilled when you total your bike and end up in the hospital, either. (Password-protect your phone, the information therein can be more valuable than the phone itself, or a Vespa!)
The Fédération Internationale de Motocyclisme reports the launch of the United Nations Environment Programme ZERO-race. The ZERO-race pits various electric vehicles in an 80-day race across Europe, Asian and North America. Included in the four-vehicle line-up is a Vectrix scooter. While the company may struggle with glimmers of hope, a German team hopes to take one around the world to promote zero-emissions alternatives. Only one of the vehicles has four wheels so it seems that traditional cages are the odd man out in this 'sprint'. Maybe an electric MP3 could enter next time around. Any Vectrix riders out there supplying their steed with solar go juice?
Huggy Bear, Starsky, Hutch, 2 hookers and a Lambretta!
Read more
Dealernews reports Annapolis, MD police have countered a rash of scooter thefts with a "Scooter Watch" program. Because some scooters aren't required to be registered in Maryland, owners can get a numbered sticker from the police. The sticker authorizes police to stop the scooter to check that the rider is the registered owner.
Maybe I'm missing something, but it seems like the owner would be inconvenienced regularly in the name of theft prevention, then if the bike was stolen, the thief would simply remove or cover the decal to prevent suspicion. (That's my sharp criminal mind at work there!)
What Annapolis really needs is Chelsea Lahmers. Most good scooter shop owners can regale you with a few great recovery stories, but Scoot Richmond's facebook page features a new recovery story about every three hours.
That's our proposed tagline for Peroni, but 2sbBrandPartners didn't get the account, so they end up with this: director Gabriele Muccino's film Senza Tiempo, an Italian film for an Italian beer company about making Italian films for an Italian beer company. Meta! As required by Italian film law, there's an obligatory Vespa VBB and Fiat 500. (at 1:40). More background (and a better quality video) at Peroni's site if you can find it through the age verifications and Flash nonsense (don't get sidetracked by the "Vespa" link that goes nowhere Vespa-related).
I'm so glad I work only nominally in the advertising industry.
Thanks for the link, Bradley J.!

French site scooter-infos.com recently published some early information about the Piaggio MP3 300 Light. With a ever-growing variety of MP3 displacements and versions on the market, including LT, Sport, and Hybrid versions, Piaggio is looking to create a smaller, more city-friendly version for 2011. The new machine is said to be based on the newly-designed 2010 Beverly (the "BV" in the U.S., though the new design didn't make it here yet). Scooter-infos.com created the photo illustration above based on that description.
Charles from scooter-infos also emailed 2strokebuzz to let us know that Stefano Sterpone, sales director at Piaggio, reiterated Piaggio's commitment to the U.S. market, and told him the MP3 Light has been designated a "global product" and will be introduced in the U.S. shortly after its introduction in Europe.
Thanks, Charles!, hopefully I translated your information correctly!
UPDATE commenter "Blue Mark" suggested an MP3 Sea-Doo hybrid: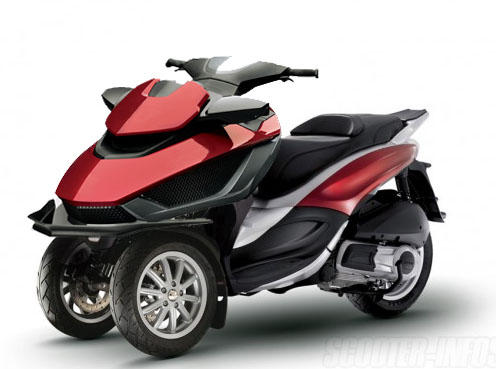 That was just silly, and I wanted to put an end to the nonsense, so I bribed a worker at a taverna in Pontedera for this actual photo:

This comic is making the rounds of the scooter boards lately. It's funny enough on its own, but it's really just a fraction of The Oatmeal's "6 Reasons to Ride a Polar Bear to Work," which is even funnier as a whole.
Read more