Steve at The Scooter Scoop was trolling the patent sites again, and learned that our friends at Piaggio & C. S.p.A. are hoping to protect the phrase "Vintage Vespa" as a service mark. Piaggio returned to America a decade ago and alienated their entire customer base with a schload of legal action against the small handful of shops and parts distributors that kept the Vespa brand name alive in their absence. A handful ended up paying big money to be certified as a "Vintage Vespa Restoration Center," a designation which carried little weight and was soon forgotten. At the same time, Piaggio offered (for sale!) a catalog of vintage parts that they seemed unable to supply to their dealers in any sort of timely fashion. In the ten years since then, most of the few truly successful Vespa dealerships are back in the hands of scooter enthusiasts, including several that Piaggio tried to shut down back in '99 in favor of snooty luxury car dealerships and boutiques. But many of the best vintage scooter repair shops still want nothing to do with Grande Azzuro.
If the request becomes reality, how can an unsanctioned repair shop (many of which have been in business much longer than PiaggioUSA) attract customers? "We fix postwar Italian monocoque 4-speed rotary-valve steel-bodied 2-stroke motorscooters" just doesn't flow off the tongue. Our suggestion? Simply offer vintage Piaggio parts and service."
Piaggio announced a new business plan today:
The plan is focused on new industrial plants in India and in Vietnam, on strengthening the commercial presence in Asian markets via new products and on development of new technologies for European and American markets…"
This clearly breaks the paradigm and thinks outside the box of Piaggio's 2007 plan to build more scooters in India and Vietnam and Brazil, while strengthening their commercial presence in Asian markets via new products and on development of new technologies for European and American markets.
Colaninno is surely a visionary, but I bet I can predict his 2012 plan: Piaggio will manufacture more different scooters, and sell them to people, at a profit — wait for it — around the world! If we're all lucky, that may still include the United States
On July 27, Scooter Superstore of America, a Ft. Lauderdale-based chain with several dealerships in Florida and Georgia, filed for bankruptcy. While many shops have closed their doors lately, and individual importers have faced some unique problems, SSTAM's trouble could be–pardon the tired idiom–the straw that breaks the industry's back.
Read more

French site scooter-infos.com recently published some early information about the Piaggio MP3 300 Light. With a ever-growing variety of MP3 displacements and versions on the market, including LT, Sport, and Hybrid versions, Piaggio is looking to create a smaller, more city-friendly version for 2011. The new machine is said to be based on the newly-designed 2010 Beverly (the "BV" in the U.S., though the new design didn't make it here yet). Scooter-infos.com created the photo illustration above based on that description.
Charles from scooter-infos also emailed 2strokebuzz to let us know that Stefano Sterpone, sales director at Piaggio, reiterated Piaggio's commitment to the U.S. market, and told him the MP3 Light has been designated a "global product" and will be introduced in the U.S. shortly after its introduction in Europe.
Thanks, Charles!, hopefully I translated your information correctly!
UPDATE commenter "Blue Mark" suggested an MP3 Sea-Doo hybrid: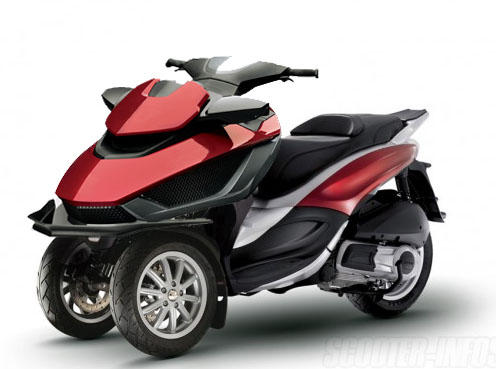 That was just silly, and I wanted to put an end to the nonsense, so I bribed a worker at a taverna in Pontedera for this actual photo:
Guido Ebert apparently dug deeper into Piaggio's 1H 2010 financial reports than we did, the mildly encouraging press release (28% improvement in global profit for the first half of 2010 on the strength of Indian and Vietnamese sales) fails to mention a frightening drop in the U.S. market: a 76.7% drop in 2-wheeler sales in the first half of the year (3,100 units in 1H 2010, down from 13,200 in 2009).
If the Piaggio MP3 wasn't already "the Gold Wing of Scooters*," the new MP3 400 LT Touring with old-man windshield, giant top-box, and hard panniers should seal the deal. Rumor has it 2012 will bring a reverse gear and an 8-track player.
*Granted, The Suzuki Burgman is more commonly saddled with that title, and the Honda Silver Wing has the closest etymological connection.
Comparing powersports journalist Guido Ebert to 2strokebuzz is like comparing Roger Ebert to an anonymous YouTube comment. So you'd think Piaggio would jump at the chance to get him on their bandwagon, right? If Piaggio's going to set up every lawnmower repair shop in the midwest as dealers, you'd think they'd give them a little marketing support. I honestly wondered if this was an April Fools joke, but I don't think it is.
I know Vespa rudely scheduled their dealer meeting in California the same weekend as Genuine's dealer retreat in Wisconsin a couple years ago, but it doesn't seem sporting to schedule the grand opening of the redesigned Scooterworks Chicago space the same day as Motowork's North Avenue shop opening. I'm not sure who called dibs on the date first, but if I can't go to both, I'm not going to either. Even if one of them books Jay Leno.
Marseille's Piaggio dealer King Moto rigged up Olympique Marseille graphics for pretty much every vehicle in the Piaggio Group lineup. Why do those look so cool, but when you see a Arizona Diamondbacks or Indiana Pacers scooter, you just want to cry?
Businessweek and others are reporting that "McKinsey & Co Inc. is studying a possible merger
between Ducati Motor Holding SpA and Piaggio." Before you get too excited, note that McKinsey & Co Inc. are regarded as occasionally-dangerous hypemongers. One commenter following up Autoblog's story notes:
You may recall that McKinsey created the corporate strategy for Enron. Much of their work, which is often highly touted and quoted, is about suggesting mergers and consolidations, both internal and external to companies.
Still, it's interesting to think about, in the greater scheme of Italian motorsports musical chairs. On one hand, homogenization strips brands of their individuality. On the other hand, Ducati's credibility (with half of Piaggio's revenues) couldn't hurt Piaggio/Vespa/Guzzi/Aprilia in the U.S. market. And we'd all be invited to Ducati Island.
Confirming rumors from last week, Dealernews reports that Piaggio USA has cut a few management positions, including vice president of sales/marketing and three sales directors. President/CEO Paolo Timoni looks into his crystal ball and speaks:
We don't expect 2010 sales to go back to 2008 numbers."
Thanks, Nostradamus! We've long mocked PiaggioUSA's top-heavy management, expensive infrastructure, Harley-style marketing, and ridiculous sales goals, so maybe this is just the change they needed. PiaggioUSA does seem to slowly learn from their mistakes, so hopefully this is just a step towards a more sustainable model for long-term U.S. success, rather than the first step towards abandoning the U.S. market–yet again–when things look grim.
Piaggio is abandoning the seemingly passionate, creative, and reasonable (and privately-owned) Canadian Scooter Corporation to establish a Canadian Piaggio subsidary, because short-term greed, total unfamiliarity with a market, and unsustainable dealer inflation is working so well for them here in the U.S. The "effective immediately, wait, no actually, effective a month ago" nature of the press release makes it clear that this was a decision that was carefully planned well in advance with CSC's blessing and assistance, and that the transition will be entirely smooth and trouble free for dealers and customers. Sigh. (Thanks, Scooterism)
UPDATE: A source tells me that CSC brought the change on themselves, see the comments.
Piaggio unveiled the new "USB" concept bike at EICMA this week. Just type "MP3″ or "USB" into Google and the first thing you get is Piaggio Scooters, right!? I look forward to the new Piaggio "BBW," the Piaggio "The," and the Piaggio "Britney Naked." To be fair, the bike has some interesting points, but come ON, namers… Say What you will about the "Grand Dink" and the "Symply," but they're easy to find on the web.
An interesting Globe and Mail interview with Morley Chaplick, the president of Canadian Scooter Corp. (Canadia's Vespa importer). I like his honesty here:
You know, I wouldn't even think of buying [a Piaggio MP3]; quite frankly, I like two wheels. But it is selling like hotcakes. That is a reality. So maybe it's a question that didn't need to be answered, but people are actually saying yes.
The importing/corporate structure seems somewhat different between PiaggioUSA, which appears to be more or less run by Piaggio HQ, and Canadian Scooter Corp., which seems more independent. I always get the impression that PiaggioUSA is mostly 9-to-5ers with leadership waiting to go back to Italy (or Harley) when their 'tour of duty' was over, whereas Chaplick apparently has a very large personal stake in the long-term success of Canadian Scooter Corp.
(I'd love to hear some better-informed opinions on that topic)
Scooter in the Sticks borrowed a Piaggio MP3 for the weekend.
From the first time I read about the Piaggio MP3 I began collecting a series of misperceptions. Until I finally had a chance to take it for a long ride last weekend I didn't realize how completely I misunderstood this machine. I was wrong about how it worked, about why someone might choose one, and most of all about the stability of the MP3.
I'd argue that most of his misperceptions were stoked by Piaggio's marketing of the scooter, where they constantly implied it was somehow easier to ride (and safer) than a regular scooter. I concur with Steve's conclusion that it's an amazing bike that's fun to ride, but absolutely not a good bike for first-time riders.
As always, the writing and photos are great. It must be foggy in Pennsylvania about 80% of the time.